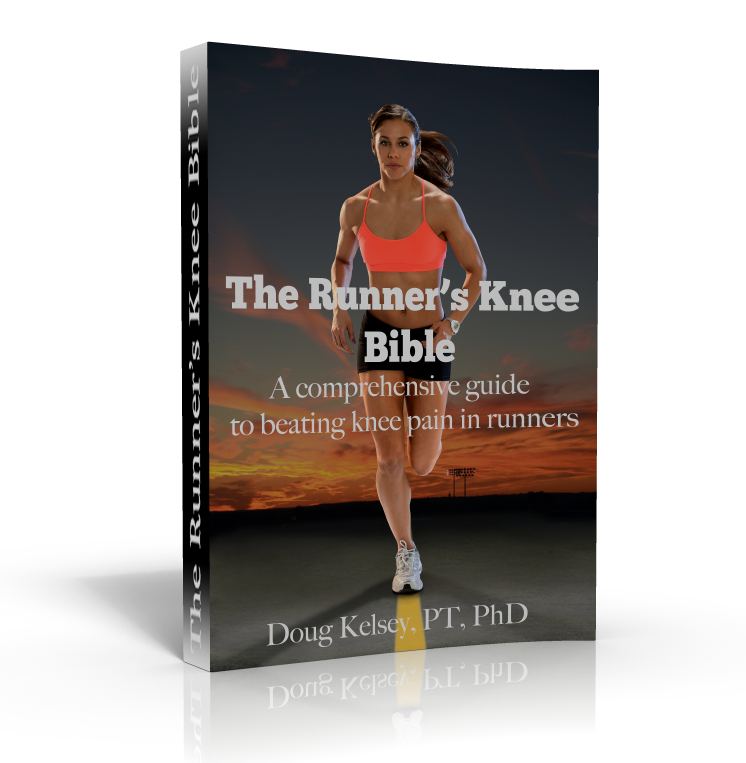 There are at least 36 million people running regularly in the United States with almost 10 million logging over 100 days a year.¹ And a lot of these folks get hurt.
Maybe this is you.
Your knee hurts, but it's hard to pinpoint the cause.
Sometimes it hurts under your kneecap and other times around your knee. Maybe you cannot recall an injury or specific event that led to your discomfort.
Your knee hurts when you walk or run and sometimes it hurts if you simply sit still too long.
You've iced it, stretched it, heated it, rubbed it and taken more Aleve or Advil than you'd like to admit.
But, the truth is your knee still hurts and the reason why is often called Runner's Knee or Runner's Knee syndrome.  PatelloFemoral Pain Syndrome (PFPS) or Chondromalacia are other common terms to describe this issue.
Why This Book?
Independent Review: For the lay person with knee pain or runner's knee, this book is a fantastic guide to aid understanding the nature of the problem, and what to do about it. This isn't a science textbook, and it isn't bloated with jargon, or incomprehensible instructions. It is a book for everyone who deals with painful knees. Many helpful illustrations and links to online videos are available to enhance understanding. This book is a user-friendly guide to some of the best advice, for bad knees, you will find anywhere.

– Dr. Mark White, PT, DPT, OCS **
For over three decades I've worked in the sports and orthopedic world, and one of the
most common questions I hear is "How I can get better and run again?". Through my blog, I was only able to scratch the surface of answering that question. It's just too big of a topic to tackle in a blog.
Get your copy of The Runner's Knee Bible today!
The Runner's Knee Bible is a 240 page multimedia, e-book (no physical product will be shipped) that reveals, a step-by-step, advanced, scientifically-based program to help runners struggling with runner's knee or patellefemoral knee pain. What will you find in The Runner's Knee Bible?
The main reason your knee hurts – page 20
Why trying to strengthen your quadriceps to overcome Runner's Knee almost always fails – page 51
Five reasons you should avoid Non-Steroidal Anti-Inflammatory Drugs for pain relief – page 55
A simple home exercises to reduce pain and improve mobility – page 63
Why your knee pain is  "not just wear and tear" – page 24
The role of leg strength in knee pain – page 53
Should you use heat or cold? – page 60
How cartilage heals – page 22
Case study with photos – page 23
Why rest can help and hurt you – page 35
Why flat feet don't cause knee pain – page 49
Eleven options to reduce knee pain naturally – page 60
What supplements to use to help strengthen your joint – page 86
How to test your leg strength without causing knee pain – page 102
Special core and flexibility tests – page 120
Hip stretches you MUST NOT do – page 157
A joint strengthening exercise routine based on specific physical tests – page 136
A specific return to running exercise routine  – page 194
A specific return to running program – page 211
Six reasons you fail to make the kind of progress you expect – page 226
Over 80 images; 30 online instructional videos (embedded within the text of the book)
Runners who have struggled with knee pain and stiffness, in some cases for many years, will discover a program designed to:
Help save money by reducing the need for medicines, such as anti-inflammatory drugs, and decreasing the need for expensive medical care
I am happy to report that I have fully recovered from CRPS (Chronic Regional Pain Syndrome) and patellofemoral pain, my knees are strong again and I am back to cycling 5-6 days a week and some light running.  I still incorporate many of the exercises in my core strength routine and my load tolerance allows me to do 1 legged squats no problem.  I even do pylometrics with jump squats occasionally. 

Doug, your Ebook is tremendous and the principles of rehab have given me everything I need to keep my knees healthy.  I now know exactly what to  do when I push it a little too much.  

Thanks for making your book available to everyone.  I have recommended it to many of my friends with patell0femoral pain. 

Gratefully, 
Leslie Wicholas, MD**
Sample Video
Sample Video
A Step-by-Step Process:
How to perform up to 11 different tests to determine your body's true strength and flexibility.

 

By gathering data first, you start based off your current capabilities.
Specific

 

exercises for your knee PLUS 

your hips, legs, and ankles.

This comprehensive approach will strengthen your joints and surrounding muscles to handle the activities of an active lifestyle.
Visual and audio demonstrations teaching you HOW

 to do the exercises we talk about

. The detailed instruction helps ensure accurate execution of the exercises so you receive the maximum benefit from each one (videos are delivered via the Internet; no physical product will be be shipped).
Exercises

 that are 

too easy for you aren't effective, so we walk you through

 

progressing or "edging."

 As you become stronger, the exercises can be adjusted to meet your capabilities.
The Runner's Knee Bible is a well researched training method for helping runners learn how to self-treat knee pain problems due to overuse – Kent K. **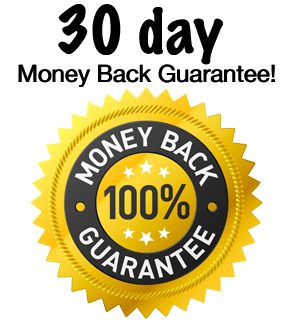 If you're not satisfied with the the Runner's Knee Bible for any reason, simply send us an email within 30 days of purchase and we will refund your money. No questions asked.
Get your copy of The Runner's Knee Bible today!
Requirements:
This is an e-book and you will need

Adobe Acrobat Reader

to read the material. No physical product will be shipped.

This book is available only through this website

.
To view videos, you will need an Internet connection.
Frequently Asked Questions
If I have questions while I am working through the program in the book, who do I contact?
For more personal assistance, contact Laurie Kertz.
Call Laurie at 512-394-4722 to set up a consultation or email her

here

.
Do I need any special equipment to benefit from the information in the book?
There is a lot of very helpful information in the book that does not have anything to do with equipment nor require any equipment. But, from working with thousands of people with painful knees, I have found certain pieces of equipment to be very useful and effective for both testing and exercise purposes. I suggest these items in the book. I have no financial relationship with any of the companies that sell the equipment. Some gyms offer the equipment I suggest and others may have substitution options. While the equipment items I suggest are not required and some of my former clients have successfully used my principles in a gym environment, what I think works the best is to use the equipment I suggest in the book.
Why an e-book?
This 240 page e-book filled with videos, web links, and high quality photos was created electronically on purpose. Paper limits our ability to quickly and easily share with you the drills, tests, and equipment needed for recovery. The book is downloaded in .pdf format. You will need Adobe Reader to view the book and an Internet connection to view the videos.
Is there a maximum number of times I can download or open the book?
No, after purchasing the book you will not be restricted in the number of times you open it.
I can't download the book. What do I do?
Make sure you are not on a network that has security settings preventing downloading files from websites with "https" in the web address. Most work environments will block downloads from secure sites. And sometimes the default setting in internet browsers such as Internet Explorer and Firefox will prevent downloading as well.
How does The Runner's Knee Bible differ from the 90 Day Knee Arthritis Remedy?
There is some overlap between the two books because the underlying problem in each case is very similar but The Runner's Knee Bible has approximately 25% more material devoted to re-training the injured runner as well as specific content for runners. 
Does the book address how to help a meniscus tear?
No. The book is for people who enjoy running and have Patellofemoral Pain Syndrome or Runner's Knee.
About the Author
Founder of Sports Center the largest, independent physical therapy practice in Austin,TX.
Performance coach and physical therapist for over thirty years.
Conducted more than 20,000 consultations and 100,000 training sessions with people from all walks of life (Olympic athletes, to weekend warriors to moms and dads and their kids).
Former Associate Professor and Assistant Dean for Clinical Affairs, University of Oklahoma Health Sciences Center.
Presented independent research nationally and internationally.
Author of hundreds of articles and several published books.
Conducted over 250 national and international seminars for trainers, therapists, and clinicians.
Online academic background and work experience can be found here.
References:
1. Sports Data. American Sports Data 2003 Superstudy of Sports Participation. Volume 1. Cortlandt Manor, NY American Sports Data; 2003.
** Disclaimer: This is an individual result and does not guarantee success.